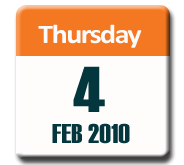 A big thank you to the 40 or so guests who participated in the Business Owners Forum event at the new BNZ facility on Queen Street on 4 February.  There was plenty of quality discussion around the topic "The Art of Networking". And judging by the show of hands at the end of the evening, everyone walked away with at least one useful connection or action-plan item.The panelists yesterday were:
Michael Masterson adopted a pragmatic view, and discussed ways to make use of tools like Linked-in, OutLook and Plaxo to make life easier rather than harder.  Michael is a great fan of "eliminating the noise" – and stressed the point that networking tools can often create complexity and unnecessary distraction rather than increasing productivity and connectivity as they are intended to do.  He conveyed some great tips to make sure these tools work for you rather than against you!  Michael can be contacted here >>> for anyone who would like to continue the discussion with him in person.
Sarah Lochead-MacMillan discussed some practical techniques for getting face to face and cultivating a mutually beneficial network.  Sarah advocates "connecting" rather than "networking" – and not only does she walk the talk, but she has also written a book on the subject entitled "The Naked Networker" which is available on her website here >>>. Sarah is an advocate of working your network not so much for your own overt benefit but to connect people within the network to each other for the long term benefit of everyone involved.
Myself – Fraser Hurrell.  I opened the session discussing my own experiences in using social media tools such as twitter and facebook to drive leads and sales to two businesses – Brightmind LABS >>>, which sells a product online – and ElevateCA, which sells services.  Whilst I am by no means an expert in this area, I have had some successes and failures in using social media tools – and this was the basis of my discussion.  A summary of my presentation is available right here  >>>.
A big thank you to Brian Watt, Alexis D'Orsi and Fiona Bendall from BNZ for their kind hospitality – this event was held at the newly opened BNZ function facility on 80 Queen Street, and it was a great venue
The next Business Owners Forum is in Whangarei on 18 February, and that event will be a practical and information-rich session on monitoring your business financials featuring Dean Subritzky (Elevate CA Director) and Geoff Grigg (Partner at BNZ Whangarei) on the panel along with a yet-to-be-announced client giving a coal-face view of this topic.
And the following Business Owners Forum will be back in Auckland on 18 March discussing shareholder current accounts and some of the tips, traps and tricks available to protect these, make them equitable between shareholders – and tax efficient.  Our guest panelist for that event will be Damien Grant, a liquidator from Waterstone Insolvency, who will no doubt alarm the room with tales of how bad things can get for shareholders when they go wrong.  But the focus on the night will be steps to prevent these horror stories from unfolding.
Contact me if you'd like an invite to either of these events and are not on the regular e-mail list.
Fraser Hurrell is one of three directors of Elevate CA Limited, Chartered Accountants & Business Advisors in Whangarei, New Zealand.