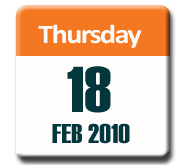 How do you keep your finger on the pulse monitoring the financial health of your business in real time rather than waiting for historic financial statements?
If you need to know the answer to this question, this Whangarei event is for you!  The 18 February Business Owners Forum event will be an information-rich panel discussion delivering some practical techniques for monitoring your business' financial health in real time.
This event will be hosted at the newly opened BNZ Function Centre on the corner of  Bank Street and Rust Ave, Whangarei on 18 February 2010 from 5:30pm (sharp) to 7:00pm.
This is a Business Owners Forum event, so as usual discussion will be driven by those who attend on the night – and the panelists will keep things moving along quickly.  Panelists will include:
Dean Subritzky – a director of Elevate CA Limited
Geoff Grigg – Partner at BNZ Whangarei
Roger Taylor – owner of Pacific Motor Group, Whangarei – who will give some practical tips on these issues from the coal-face.
The panel will be chaired by Michael Masterson, director of The Bottom Line Expense Reduction Limited.
Format is casual over pizza, beer and wine.  Business Owners Forums are always lively events – and are targeted to owners of businesses with $1 million turnover and more.  There is never a "sell" – these events are hosted as a forum for business owners to discuss issues of relevance with peers – and without having to fend off advances from people in the room seeking to push agendas, products or services.
Business Owners Forums are supported by ElevateCA Limited, BNZ, The Bottom Line Expense Reduction and Webb Ross Lawyers.  The ethos of the Business Owners' Forum supporters is to give back to the business communities which support us.  In line with this ethos, Business Owners' Forum events are always free of charge.
If you would like to be invited to this event, please contact ElevateCA.

Fraser Hurrell is one of three directors of Elevate CA Limited, Chartered Accountants & Business Advisors in Whangarei, New Zealand.